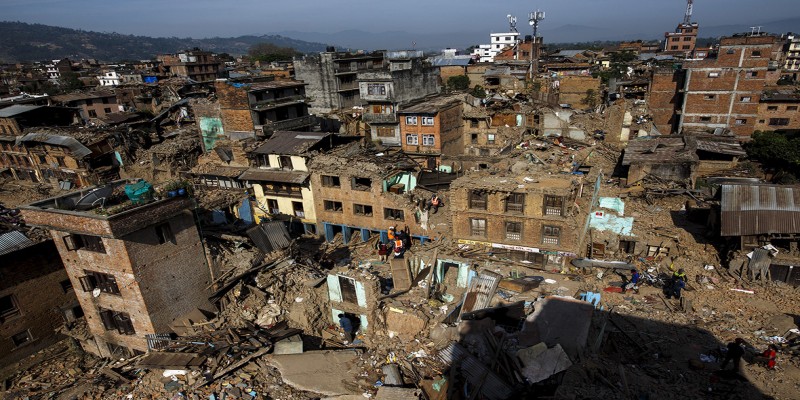 Almost one month into the incident and news coming from all corners about the effect of the earthquake goes to show the scale of impact it has had upon our country. Destruction has led to disruptions not only in terms of loss of lives and property, but also other areas such as health, education and sports. There is still uncertainty with regards to whereabouts of the missing and therefore, there is no full stop as yet to the ongoing rescue and relief operations. To some extent, this has also been an eye opener for long term disaster management and preparedness as this tragedy has instigated several debates in the public forums and parliaments. More highlights from the media coverage:
The Outbreak Alarm
Online Khabar reports that the number of people suffering from pneumonia and seasonal flu has risen in Kalikot – which could be an early sign of epidemic outbreak if the situation worsens from the current stage. According to the news report there is drug shortage in the health facilities and although Kalikot is not directly affected by the earthquake, the epidemic could be spread in the whole district and elsewhere if the problem of drug shortage is not solved as soon as possible.
Considering the possibility of epidemic outbreak, Epidemiology and Disease Control Division (EDCD) has deployed 175 doctors, including 125 foreigners, in Ramechhap, Rasuwa, Nuwakot, Sindhupalchowk, Dhading and other badly affected districts. The medical teams will work to create awareness among people about the possible outbreak of communicable diseases. Likewise, the teams will carry out necessary work for health services in the quake-affected areas and coordinate with the central-level authorities regarding the health condition of the people and offer services as needed. All doctors working under WHO have also been deployed to earthquake affected districts for any sort of medical assistance.
Concern over Maternal and Child Health
UNICEF has reported cases of increased pre-term babies due to the earthquake, increasing complications for treatment of pregnant women. Patrick Adams in Foreign Policy writes an interesting article about Nepal's 'renegade strategy' to prevent maternal mortality. He opines that with the earthquake devastation and severe implications on the already overstretched health system, Nepal needs to rethink on the use of misoprostol (which is a controversial drug as WHO hasn't approved it) as a solution to prevent pregnancy in areas where health facilities are hard to access. He says, "Nepal needed something else — a stopgap measure for making pregnancy safer until access to quality care could be extended to all. So the country went its own way. In providing women with misoprostol at the community level — taken orally, immediately after birth, the drug decreases blood flow to the uterus, drastically reducing the risk of hemorrhage — Nepal broke with the global guidance set by the World Health Organization, which had yet to issue the drug its seal of approval."
The Art of Fundraising
Maximum funds yield possibility of maximum support. Therefore, Nepal requires good sum of money and greater utilisation at this point of time so that it meets the basic needs of the affected as well as supports in the long term rebuilding efforts. Debbie Wolfe has come up with 5 inspired ideas to raise fund for relief effort in Nepal and they are:
Hosting a Nepali meal
Holding a musical night
Auctioning your services
Creating your own sponsored event
Checking your calendar and planning a special event such as birthday party, retirement, dance recital, etc
Fundraising can also be effective with renowned personalities making an appeal. Bear Grylls– a celebrated TV personality renowned for his wild adventure and survival skills and also Scout Chief of Disasters Emergency Committee has made a personal appeal to help the earthquake survivors through a Youtube video.
Relief and Rebuilding Efforts
Following suit of other political forces, former Maoist PLA combatants have also expressed their commitment to be engaged in rebuilding and reconstruction efforts. Popular celebrities Hari Bansa Acharya and Madan Krishna Shrestha are also reaching out to different affected areas in the country with relief materials, ekantipur.com reports.
Oxfam through an infographic on Twitter claims that it has been conducting relief activities in 7 districts; 3 within Kathmandu valley and 4 outside – Gorkha, Dhading, Nuwakot and Sindhupalchowk. Furthermore, the organisation claims that it has served a large section of people providing the following services to this many number of beneficiaries: water - 53800; sanitation – 7950; hygiene promotion – 27930; food support - 6260; livelihood support - 500; and emergency shelter – 20230.
Shelter is still a prime concern for the affected as locals of Barpak, Gorkha - the epicenter of the earthquake are demanding for permanent shelter rather than relief aid. Pahilo Post has published an article by an engineer who reiterates the necessity of building temporary homes before monsoon begins.
Some communities are finding their own way, seeking their own solutions as there is an interesting story about a village, Bhulbu, just 25 kilometres away from Kathmandu finding its own way to rebuild itself.
A Blessing in Disguise?
The Guardian covers an interesting story about how the earthquake led to unity among the villagers in Langtang valley with few survivors and complete devastation. As interesting is another story in Swasthya Khabar of earthquake becoming a boon for the residents of Khagankot VDC of Jajarkot who hadn't seen a doctor before – luckily now being treated by a doctor posted there after the earthquake devastation.
For long term solutions to disaster management, leadership is the key as Ujjwal Thapa, Chairperson Bibeksheel Nepali party opines in his article published in Republica about missing leadership to handle the disaster of such gravity.