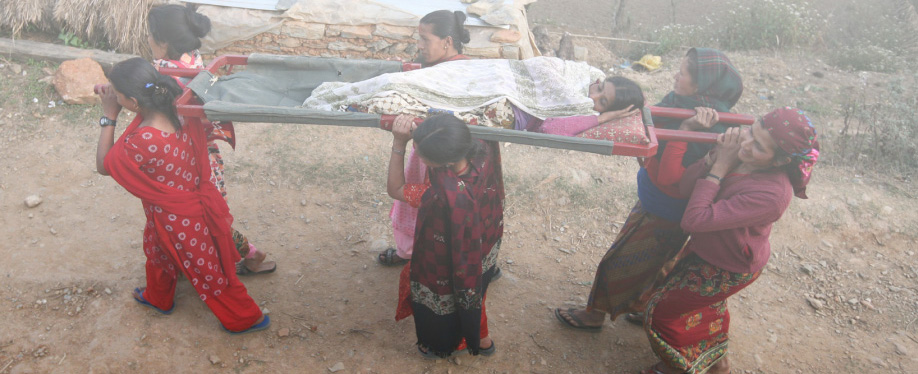 What We Do
Generating Evidence
Evidence generation through Research, Monitoring and Evaluation is a major thrust of HERD's work. HERD has successfully implemented over 120 projects and programmes generating high quality evidence and informing policies, eventually contributing to service delivery strengthening. HERD has proven track record of end-to-end delivery of various large scale research and evaluation studies such as household and facility based surveys; operational research; implementation research; ethnographic and other qualitative studies; mixed methods research , among others.
Informing Policies
Strategic engagement for policy uptake is embedded in all the projects and programmes. HERD engages with relevant stakeholders from the very beginning of the project period for required policy uptake. HERD synthesise generated evidence to identify underlying gaps and challenges , working collectively to draw mitigation strategies/way forward to address those gaps and challenges. HERD develop policy briefs, conduct advocacy workshops and meetings as well as provide technical support in development of national policies, strategies and guidelines.The contribution of HERD in policy development has been well acknowledged by national stakeholders specifically in the development of National Health Sector Strategy 2015-2020, National Urban Health Policy and Strategy 2015, National Strategic Plan for Tuberculosis Control 2016-2021. Our successful implementation of Joint Annual Reviews of health sector consecutively for 5 years (from 2012 to 2016) is symbolic to the trust by Government of Nepal (GoN) agencies, External Development Partners (EDPs) and civil society for evidence uptake.
Improving Practice
Translating policies into practice and standardisation of service delivery through improved practice has been one of HERD's core areas of engagement. HERD contributes to develop operational guidelines, training manuals for systems strengthening and application of new or reformed plans, policies and guidelines. While doing so, HERD takes into account strengths at the local level in order to make the process more evidence based and feasible to deliver in the local context.Particularly in the component of health systems strengthening, HERD has made considerable contribution to improve health worker performance through performance based management system and supportive supervision, improving service seeking behaviour through behaviour change intervention, advocacy and social mobilisation along with media sensitisation and capacity building of journalists demonstrating evidence of HERD's engagement at beneficiary level to improve practices in aspects of health service delivery (in rural and urban areas) and other areas of social development.
Team Strengths
HERD holds a market-competitive team strength with dynamic and dedicated inter- disciplinary workforce coming from public health, health policy and planning, economics, general medicine, research, monitoring and evaluation, management and finance, social science, demography, education, communications, public administration and other disciplines. The team comprises of the right blend of experienced, seasoned and enthusiastic young and mid-career professionals working in an open work place environment with opportunities of shared learning, mentorship and capacity building.Specialised units: Human Resource and Financial Management, Research Monitoring and Evaluations, Programme Management, Data Management, Research Uptake and Communications and ICT embodying in policy and practice to achieve the organizational vision, mission, goals and objectives.
Innovative
HERD secured unique position in the market in areas of work with the demonstrated ability to perform in challenging circumstances, coming up with quality products, maintaining high ethical standards. While implementing projects, HERD keep pace with the modern technologies and innovations driving our Information, Communications and Technology (ICT) infrastructure forward. Using this infrastructure, HERD conducts e-survey data collection and real time data monitoring and management.Innovative approaches in terms of design and implementation of our projects and programmes, reaching out to the unreached groups and use of latest technologies to ensure effectiveness and efficiency in the work has been instrumental to secure this position. HERD's wide range of engagement from the policy to the implementation level has positioned us as an interface between government agencies, development partners, local organizations and the beneficiaries at the community level thereby moving ahead in terms of achieving our objectives of improving health and well-being of all.