HERD district team comprised of District Coordinator, Sitaram Rimal and Planning, Monitoring and Information Management Officer, Asmita Shrestha paid a visit to Dhadawar VDC, of Bardiya on December 17, 2016. Dhadawar is a Disadvantaged Group (DAG) identified VDC and is one of the intervention districts for implementation of Multi-Sector Nutrition Plan (MSNP). Here is what they observed during their field visit.
Committed and active FCHV
It was a sunny day of the winter season. Two women with their small children below 2 years were sitting in the yard outside the house. They looked us with astonishment. After 5 minutes of waiting, one middle aged women came with smiled and greeted us.
Sitarani Tharu, aged 61 years is the Female Community Health Volunteer (FCHV) of ward no. 5 of Dhadwar VDC, Bardiya. She has been working as FCHV and contributing in her community for almost 2 decades (precisely since 2054 BS). There are altogether 14 members in her family with 3 sons and 3 daughters.
She shared, "Sometimes I have to leave for work while cooking and doing other household stuffs. Although there was little disturbance initially in household chores due to my assigned duties as FCHV, now I feel better serving and helping community people. People immediately call me when something happens in village."
She also shared with excitement that she has got the mobile as a gift in newborn care among the FCHVs of four VDCs.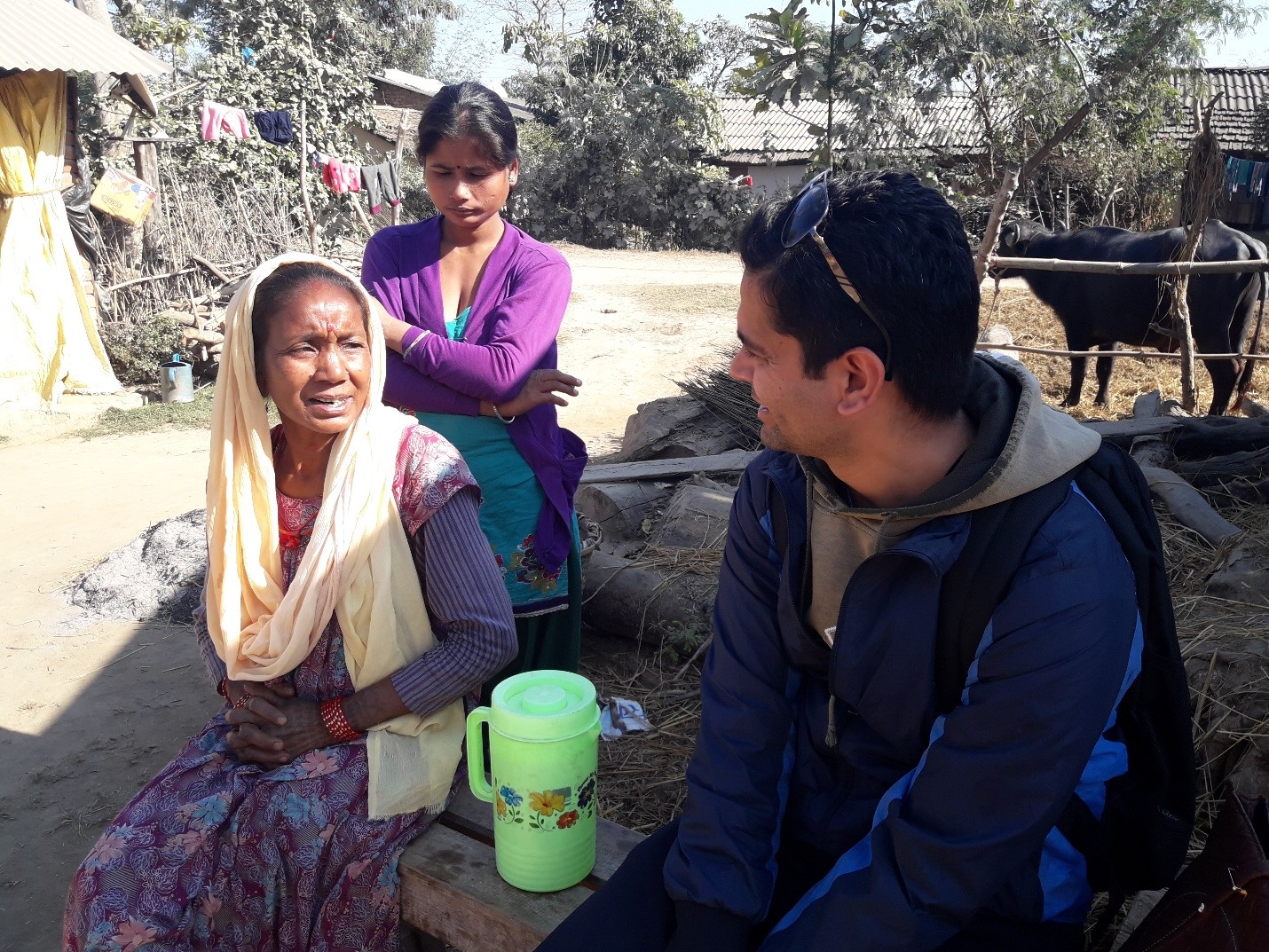 HERD District Coordinator Sitaram Rimal chatting with Sitarani and her daughter-in-law Ramrati.
With regards to nutrition, she reported that although there is some improvement in the feeding habits of people, there is lot to be improved. Breastfeeding and milk consumption is not practiced in such a great deal in the (Tharu) community.
We shared our objective of supporting implementation of MSNP in Bardiya and importance of inclusion of nutrition in bottom up planning process. After listening to us, she was very happy that community people can actually contribute to decision making of including nutrition related activities in the district plan. She was committed to participate actively in the planning process and make some suggestions of including nutrition related activities during the planning meeting at the VDC level.
Positive impression of nutrition training
Ramrati Tharu, aged about 28 of ward 5, is the daughter-in-law of FCHV, Sitarani Tharu. She is the mother of one year old child named Rajdev. She is participating in a nutrition training organized by Tharu Mahila Utthan Kendra (Anukulan project) for the last 22 days. That training is a three-month package targeted to golden 1000 days mothers which includes behaviour change and nutrition related awareness package. She expressed her satisfaction that she is learning various aspects about nutrition through that training. She shared that she learnt to make Jaulo (a semi-fluid meal comprised of rice and pulses), taking proper care of children and breastfeeding practices. She was also committed to share the things she learnt with her neighbours as well.
Opening Up Doors for DAG Communities
As MSNP is gaining momentum in Bardiya along with other 27 districts with the support of UNICEF Nepal and European Commission, it is imperative that community driven interventions are designed and executed effectively, bringing about improvements in the nutritional status of unreached DAG communities so that their access to utilisation of services are ensured, raising the nutrition profile of the districts and ultimately of the entire country in the long run.